COVID 19 + POLICIES
QUICK LINKS
SOUTHPAW GUEST WAIVER –  fill out online before your appointment.
WHAT TO EXPECT FROM US
(new policies and salon improvements)
– All team members will wear a mask.
– New layout of Stations to maintain 6′ of Social Distance.
– New HEPA air filters on HVAC system and fresh air flow in the salon.
– All staff members are Barbicide COVID-19 certified.
– Cleaning of all stations, tools and surfaces in accordance with CDC and OSHA standards, as always.
– Capes and towels are washed and dried hot to the touch between each guest, as always.
– Guest flow management to maintain one to one stylist to guest ratio.
WHAT WE EXPECT FROM YOU
– Please complete Southpaw wavier online before entering the salon for your appointment.
– Please wear a mask at all times inside the salon. Over-The-Ear-Loop style is recommended.   If you arrive without one, you can purchase a mask from us for $3 before entering the salon.
– Another word on Masks: During your services, your mask straps might get a bit wet or a bit of hair color may get on area close to the ear. You might want to bring an extra one or use your own disposable one for your salon visit.  We can provide a complimentary mask for color guests, if requested.
– If you want to limit your appointment time and chose to skip shampoo services, you must arrive with clean, dry hair.
– Please wash your hands upon arrival.  Your stylist will escort you to our wash station.
– Please come to the salon alone.  No additional guests or children at your appointment.
– Apple Pay preferred, credit cards that tap or dip can be used too.    Gratuities can be left via Venmo or Square.  No change will be available. There will be no cash or checks accepted.
– Please minimize personal items you bring to the salon.  We suggest paring down to keys, phone and form of payment if possible.
– Please use a common sense approach to health and wellness. Do not come in if you show any COVID-19 symptoms or are sick or if you have been in contact with anyone sick.  Either circumstance will have your appointment rescheduled to 14 days from the current date.
TEMPORARY MEASURES
– Salon capacity is 7 people.  (3 stylists, 3 guests, 1 Front Desk team member)  No additional guests or children at your appointment.
– There in no waiting in the salon.  Our waiting area has been removed.  Please arrive at the exact time of your appointment and our front desk team will manage the flow of guests in and out of the salon. We have a new text message feature to help.  We will call you if anything changes.
– Until further notice, Children's Haircuts will not be available.  If you have a child's haircut pre-booked, we will call you to reschedule.
– We'll greet you verbally.  No hugs or handshakes.  But we still love you.
– We will not be offering beverages at this time.  Food and drinks are not permitted. Keep that mask on!
– No walk-in appointments.  All appointments must be scheduled in advance online or by phone call.
– Please note we've made a small increase in prices to help with the proper disposal and recycling of new PPE and cleaning supplies.  Visit Green Circle Salon for more info.
– We will offer Curbside Aveda retail purchases.  Simply call ahead or upon arrival and our Front Desk team will help you complete your transaction.  323-230-9966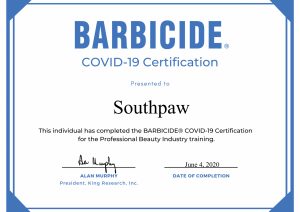 Late/Cancellations:
If running a little late, please understand that every effort will be made to still deliver the service. However, appointments may have to be rescheduled. We request at least a 24-hour notice in the event of a cancellation, as we may be able to accommodate another guest.
Consultations:
All services begin with a thorough consultation—the most important part of the experience. We make every effort to listen and discuss exactly what our guests are expecting. As wishes are discussed, we ask our guests to voice any issues, concerns, allergies or medical conditions—we're here for you and want you to be 100% satisfied. Our service providers will also offer product recommendations, as well as discuss routine maintenance. Before the service is performed, stylists will discuss the process as well as the products that will be used.
Exchanges:
Concerning purchases, we will gladly exchange an unused Aveda product that was purchased in our salon for another product, though promotional pricing will not be extended.
Guest Safety:
To ensure the safety of our guests/staff, and to allow us to give each guest our undivided attention, only the person receiving the service is permitted on the styling floor. All other guests are asked to wait in the reception area, as required by our insurance provider. Children are not allowed in the spa or nail area at any time and must be accompanied by an adult at all times.
Cell Phones and Electronic Devices:
We kindly request that phones be silenced, set to vibrate or be turned off to ensure that all our guests receive the relaxing experience we strive to provide.
Payments:
Southpaw accepts payment by Apple Pay or Credit Card only.  No cash or checks will be accepted.