COVID 19 + POLICIES
Please arrive wearing a mask and check in with our front desk team.
Mask Optional with Proof of Vaccination.
Otherwise, please wear a mask.
If you would like your service provider to wear a mask, we are happy too accommodate. Please mention at the front desk.
To obtain your digital proof of vaccination, please visit https://myvaccinerecord.cdph.ca.gov/
WHAT TO EXPECT FROM US
(new policies and salon improvements)
– New HEPA air filters on HVAC system and fresh air flow in the salon.
– All staff members are Barbicide COVID-19 certified.
– Cleaning of all stations, tools and surfaces in accordance with CDC and OSHA standards, as always.
– Capes and towels are washed and dried hot to the touch between each guest, as always.
– Guest flow management to maintain one to one stylist to guest ratio.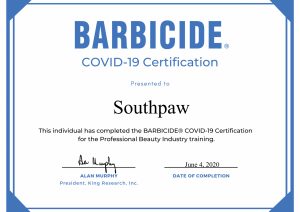 Scheduling: Phone or Online
To schedule an appointment, book online or give us a ring at 323-230-9966. If you do not see a specific opening or immediate availability online, please call us at 323-230-9966 for further assistance and to be added to the waitlist.
Reservations and Punctuality
Please arrive on time to your reservation to ensure you receive your full service. Please be aware that arriving later than 15 minutes to your appointment may result in altering of services available.
Cancellations & No Show
As a courtesy to our other guests and our salon team, please provide a 24-hour notice of cancellation for an appointment. All appointments must be cancelled at least 24 hours in advance. You can do so online via your confirmation email or by calling 323-230-9966.  Text message or email cancellations will not be accepted.   Appointments cancelled with less than 24 hours notice or a No Show will be charged for the full amount. We appreciate your understanding as we strive to provide you with the best services possible!
Cancellations Due to Illness
If you cancel with less than 24 hours due to illness, you must call in to 323-230-9966 to reschedule a new future appointment, otherwise you will be subject to our full cancellation policy.
Exchanges:
Concerning purchases, we will gladly exchange an unused Aveda product that was purchased in our salon for another product, though promotional pricing will not be extended.
Payments:
Southpaw accepts payment by Apple Pay or Credit Card only.  No cash or checks will be accepted.